BeamFlex
The Smart Wi-Fi Antenna Technology That Steers Signals to High-Quality Paths.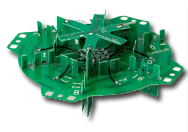 For greater speed, fewer errors, and instant bandwidth delivery, BeamFlex offers first-of-its-kind Adaptive Antenna Technology that maximizes signal coverage, throughput, and network capacity. It delivers MIMO benefits to 802.11a/b/g/n devices, to further increase MIMO diversity gain and maximize spatial multiplexing potential—at minimal cost.
BeamFlex consists of a smart, compact antenna array with multiple elements, which can be combined in real time to form unique antenna patterns. The advanced BeamFlex system software continually learns the environment with all its hostilities and interference sources, including disruptive RF conditions, numerous communicating devices, network performance issues, and application flows. Then, it selects the optimum antenna pattern for each communicating device in real time, while actively mitigating interference and minimizing noise to nearby networks and devices.
BeamFlex offers:
Over 3X increase in performance and range
8X expanded coverage
Stabilized wireless network performance, for picture-perfect video streaming and crystal-clear voice communications
Maximized power efficiency
Interference mitigation
Unlike omni-directional antennas that radiate signals in all directions, BeamFlex directs transmit energy towards the best path to the receiving device. And unlike fixed-positioned directional antennas, BeamFlex dynamically configures its "beam" on a per-station, per-packet basis, to achieve omni-directional coverage.
BeamFlex+
BeamFlex+ is an enhancement to Ruckus BeamFlex adaptive antenna technology by providing adaptive support to mobile devices. BeamFlex+ enables antennas to adapt to client device orientation in addition to client device location.
How it works: All antennas have a property called polarization, which refers to the physical orientation of the wireless signal that that antenna is configured to receive or transmit. For best performance, the antenna polarizations of the two sides of a wireless link (e.g. AP and client) should be aligned. In practice, the respective antenna polarizations of APs and clients are seldom aligned, especially for mobile device clients that users frequently rotate and hold in different orientations (i.e. smartphones and tablets).
BeamFlex+ adaptive antennas feature a mix of two distinct polarizations (vertical and horizontal) across antenna elements. The signals received on these antennas, across the two distinct polarizations of BeamFlex+, are combined by the AP in such a way as to maximize the received signal-to-noise ratio, allowing best possible performance. This has the same effect as if the AP were physically aligning its antennas with the client device. The adaptive nature of BeamFlex+ means that the antennas adapt to client device orientation in real-time.
BeamFlex+ can enhance the user experience by ensuring consistent wireless signal. Without BeamFlex+, changing client device orientation can cause up to 2.5x performance difference. BeamFlex+ eliminates this variability and ensures optimum performance for any client device orientation, making APs with BeamFlex+ perfectly suited for serving mobile devices.